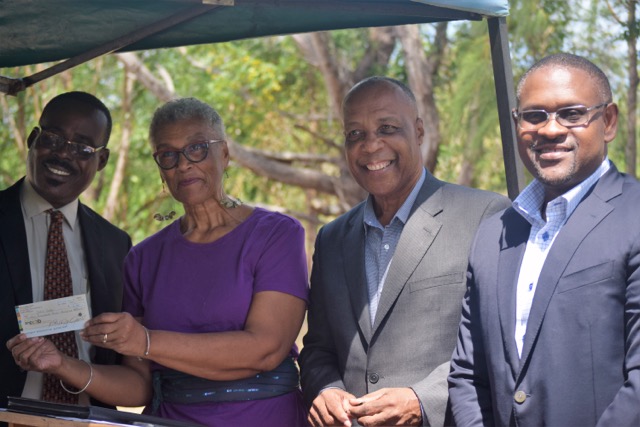 20 Mar

Farmers and chefs partner in farm-to-table event

Posted at 16:01h

in

Media

The Gilbert Agricultural Rural Development (GARD) Centre launched its 4th annual Farm-to-Table event that promotes farmers working together with chefs to create cuisine using locally sourced produce.

Roberta Williams, executive director of the GARD Centre, said the event is an opportunity for socialisation.

"We will have a marvelous array of food available. We will have a tasting area. The Fisheries Division always comes up with creative seafood delights for persons to test out, and during the day we will be having music. We will have a Chinese auction which is very popular," Williams said.

Yesterday, Kirthley Maginley, principal of James and Maginley Charity and Care Foundation, committed to being the main sponsor for two more years. The charity has already been associated with the event for the past three years.

Casroy James, another principal of James and Maginley Charity, said the joint non-profit organisation sets aside 10 percent of its profits for charitable work, and it will continue to support ventures that give at-risk young people an opportunity to learn a skill, become self-reliant and aspire to be entrepreneurs.

"When I look at the work the GARD Centre has been doing for the community of Antigua and Barbuda, I can't see, in good faith, how an organisation such as ours would not want to be a part of this," James said. "If we can take young people who have fallen through the cracks and bring them onboard, you may not be able to value it now in dollars, but you never know what impact these young people can create."

In acknowledging the commitment, Williams said that the continued support will ensure the sustainability of the programme.

She noted that the funding of the centre is from grants and donations.

"I am very pleased that we have come to the point where people are actually calling for tickets, and we don't have to call people anymore. It is very important because there are a lot of things we purchase in order to make this a professional event. We also rent tents, and we have professional servers," Williams added.

June Jackson, GARD's job placement and communication coordinator, thanked everyone involved on behalf of Goddard Catering Group.

The April 14 event will be at Mercers Creek under the patronage of the Governor General, Sir Rodney Williams and Lady Sandra Williams.

Tickets are $100.